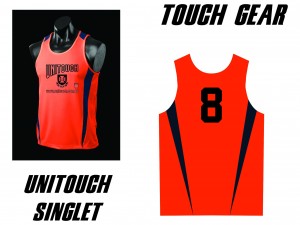 We have singlet and t-shirt varieties which include a Unitouch logo on the front and large numbering on the back.
They come in a variety of colour combinations and are sold in packs of 14, with a range of sizes.
Lead times for jerseys are between 1-3 weeks, although we do have some in stock which you can get immediately.
To order a set, go to your team page via http://comp.unitouch.com.au and click the "Order Jersey" link for your current grade.
Please note, only team contacts (captain, vice captains) have access to these advanced team features.